189
December 20, 2014

A three person family who wants the flexibility of the guest room would be perfectly suited to this layout, which also has space for a lovely private patio.

The bedrooms in this layout are not particularly large, but spacious outdoor areas and a cozy living room mean there is still room to spread out and relax.

Three equal bedrooms is an easy solution for a roommate situation, since rent can be split in perfect thirds.

With a breakfast bar, dining room, and small patio, this home could easily house a family or even a group of good friends.

Natural light reigns in this three bedroom house that gives each bedroom its own private balcony and tons of windows.

The bedrooms in this home are spread out for maximum privacy, with buffer rooms between each space.

Two detached bathrooms in this house, plus a large living room, dining room, and outdoor seating area, make it perfect for entertaining friends and hosting get togethers.

Large bedrooms dominate each corner of this apartment, meaning its easy to get away from everyone, if just for a moment.

A huge master bedroom with en suite bath as well as a large kitchen and dining area make this one of the bigger options when it comes to three bedroom layouts.

In a slightly different configuration of the previous home, this space has an entrance to the east, swapping the living room with that corner bedroom and giving the sleep space more light.

Two bathrooms in this small space might be tough to negotiate with a teenager, but does make the layout a bit more efficient.

An ideal family home, two of the bedrooms here have designated study areas.

Three bedrooms can be the height of luxury if you have enough square footage, as this house clearly does.

In another option from KSV developers, the same square footage is shuffled around but massive bedrooms and private patios with folding shades remain.

The third options seems a bit smaller, but still utilizes an open floor plan for the common areas of the home.

When you put a pair of beds in a single bedroom, you can really maximize your space. This kind of configuration is ideal for a vacation home, where beds are at a premium.

Big bedroom, built in closets, and a bathroom for each bedroom is really a dream scenario. A cozy dining room rounds out the design.

Two bathrooms with five beds seems a little dangerous, even if this is the layout for a temporary holiday home. It could be a recipe for long lines at shower time.

Putting the kitchen behind closed doors may not be the most contemporary choice but it is a good way to contain the smells and sounds of cooking, making dinner parties a bit more elegant.

This sunny three bedroom again offers plenty of private outdoor space, including balcony access from each bedroom.

In this slightly different design, two of the bedrooms share access to the same balcony while a third gets its own.

This spacious home with massive bedrooms, multiple patios and a huge living room makes three bedrooms feel like a mansion.

In neutral tones with lots of closet space, this home becomes a calming place to come back to each day.

Finally, a clean and simple design via 99Acres makes room for all the essentials without a lot of fuss.
Related Posts:
188
December 20, 2014
Not everyone has the luxury of a bathroom that spans almost an entire bedroom's length. Instead, most of us has slightly small spaces that act as our bathrooms, whether it's the guest's or your own master bath. With that being said, the layout of this room is greatly important for functionality and design purposes. And for that reason, we've compiled a list of small bathroom layouts that are incredibly inspiring but all attainable when renovating and redecorating your bathroom. Let's take a look!
This super modern space may not be cozy and comfortable but it sure is slick and stylish, don't you think? Between the red hue and the silver compliment, you've got a unique and spacey bathroom to shower in. We love the stand-up shower design for a more contemporary look instead of a shower and tub combination that would give the room a more traditional feel.
Quaint and charming this bathroom has a chic look but a comfortable first impression. The tub's shape is unique, the shower addition creates versatility and the textured walls create interest. We also love the plum color addition which is a great, outside-the-box choice for a bathroom, especially complimented by the bright whites.
We are swooning over this small, but mighty, contemporary bathroom. It's chic and sleek and absolutely everything you'd want in a bachelor's posh apartment or first home. Although the darker tone may make the space feel smaller, the tile breaks up the haze creating a better look and style for anyone's eyes.
This space is gorgeous. Clean and simple, with sharp lines and a strong, minimalist vision, this bathroom is a great example of how to utilize a small space. Everything you need is right inside with a no fuss attitude and two vertical mirrors adding the illusion of a bit more space and light – always a benefit in little areas.
Similar to its predecessor, this is another prime example of a small bathroom with a gorgeous and clean palette. There's a minimalist vision that's blatant to the eye but there's also a very chic and posh finish to every part of the room. The black tile accent wall provides a shine and an extra pop for a surprising amount of style in a little space.
What a view right? Take a peek at this bathroom from the ceiling's angle, makes it even more apartment how genius and functional this layout is. Using every inch of the room without cluttering or creating chaos, a small bathroom really can have it all with ease and a design-worthy presence.
This futuristic bathroom is just so perfect and illuminating. You'll feel refreshed walking in a space with everything right at your fingertips but also, everything smooth, clean and crisp. We love its modern elements and small tiling, which makes the room look a bit larger and more interesting.
Here's another ceiling view for you to enjoy. We love this angle as you can get the best visual possible, and this contemporary, cottage-styled bathroom is too sweet not to share. Bright white with a textural floor, there wouldn't be a guest in the house against having to use this bathroom during their stay over.
Sometimes all you really need is a tub. And this tub is beautiful and fits right inside this small room. We are loving the lighting that creates a romantic and relaxing ambiance, and we also love the brick-style tiling that creates a rougher, surprising style in such a quaint space. The absence of color also pushes forward a cleaner design.
One of the more traditional of styles and layouts we have on our list, this bathroom makes anyone feel right at home. The garden tub sits perfectly next to the window, adding natural lighting and the illusion of more space. While the accent tiling creates more design without closing in on the room.
This is one small bathroom layout that truly utilizes every nook and cranny of the small room. The counter top intertwines with the toilet in a modern, stylish but still very comfortable way. The white necessities acts as a contrast and split to the two darker tones, while still feeling clean and never over-cluttered.
This space saving bathroom mixes a variety of home styles we love, from traditional to modern to eclectic, we are loving this layout and design! We love the tile, we love the mixed material feel throughout the entire space and we love the Plexiglas choice instead of shower curtain addition which helps to give the illusion of more space and movement in the room.
The post 12 Space Saving Designs for Small Bathroom Layouts appeared first on Furniture Fashion and requires written authorization to be republished on another website.
187
December 20, 2014
There are a lot of ways to look at a holiday home. It might be a time share in a condo or a ski chalet in the mountains, but the most important thing is that it is a place you can gather and enjoy time with family and friends. That was exactly the intent with this holiday home in South Africa, built by architects at SAOTA with interior design from Antoni Associates. The spacious, modern home is warm and open, carefully marrying the interior to the exterior while minimizing the impact of any outside forces – from wind and rain to neighboring homes – and maximizing spaces to sit, chat, and entertain.

The home is located on Shelley Point, looking out of Stompneus Baai, which is part of the larger St. Helena Bay. The location is rich in local vegetation and wildlife, including dolphins, whales, and birds.

Guests, of which the young family who built the home intended to have many, enter through an elevated entryway. The upper level of the home that is accessed from here contains the main living area, kitchen, and dining room. This allows these gathering spaces the best views of the bay, while the bedrooms and playroom on the lower level have a bit more privacy.

Of course, most people on holiday want to be able to enjoy the climate and weather and this home is no exception. In order to allow the homeowners and guests to fully enjoy time outside, the architects built an interior courtyard that includes the swimming pool and is sheltered from the wind.

The beautiful thatched roof, a classic beach house style with a modern take in this instance, is supported by a perimeter I-beam and stands in natural contrast with the more industrial granite flooring.

In a design element we have featured on this blog before, the bedrooms downstairs have sweeping views with massive windows that can curtained up at night for privacy. In this home, the curtain tracks were actually built into the house's structure.

The floorplans make it easy to see how the simple yet elegant flow of the home's different spaces creates a unique and welcoming environment, perfect for bringing friends together and celebrating the beauty of your surroundings.
For more regular updates from Home Designing, join us on Facebook.

If you are reading this through e-mail, please consider forwarding this mail to a few of your friends who are into interior design. Come on, you know who they are!
Related Posts:
186
December 20, 2014
In Western homes we may see influences of minimalism. Many modern homes strive to incorporate the beautiful simplicity of the style. However, in this Taipei home, owned by a family of three, minimalism is not simply a preferred aesthetic, it is an absolute necessity. With three people living in just 285 square feet (26 square meters), there is no space whatsoever for things that do not have a function. The home's designer at Folk Design took inspiration for this simple house from the owners' love of calligraphy and devotion to meditation. Indeed, it must take a very clear mind to let go of so much space and privacy.

The living area is the main meeting space in the home as well as the source of most of the sunlight, with its wall of windows. The long, narrow sofa features modular cushions that can quickly be rearranged from sofa to study bench to guest bed when necessary. There is also a small work nook that can be closed off out of sight by folding wood doors.

The natural wood elements are common throughout the house, which helps to give much of the decor a calming and neutral atmosphere. There is nothing busy or loud about this design.

Behind another sliding door, a narrow staircase leads upstairs to the more private areas of the home. However, the stairs are only visible when they are slid out from their hiding space in the kitchen. Built on sliding tracks, they can be folded away when the small kitchen is in use.

Upstairs are a lofted private bed area. An open glass partition looks out over the living room, which may not be the most private arrangement but does allow natural light to reach the otherwise closed off bedroom.

Storage, of course, is always an issue in a home this small. The designer has cleverly built storage into otherwise unused spaces in the ceiling. These sliding wardrobes pull down when needed and fold completely out of the way when not. The same is true of the hidden meditation pool on the lower level that gets sealed up by a natural wood plank when not in use.
Image Courtesy: Hey!Cheese
For more regular updates from Home Designing, join us on Facebook.

If you are reading this through e-mail, please consider forwarding this mail to a few of your friends who are into interior design. Come on, you know who they are!
Related Posts:
185
December 20, 2014
A good night's sleep is one of the best ways to be healthy, productive, and happy. And of course, a good night's sleep starts in the bedroom. The best bedroom should feel like home, from its colors and textures to its bed frame, it should not be a place that makes you feel anxious or excited. The bedrooms in this post are not just beautiful, they are relaxing and each is luxurious in its own way: the perfect place to lay your head and dream sweet, designer dreams.

The first room, designed by Juraj Talcik, is an amazing space that appears to be nestled in the clouds. With sweeping views of the surrounding forests and smooth, lovely natural wood floors and pretty potted plants. The unique headboard is particularly notable as well, springing up and out from the bed frame to create a kind of partial, modern canopy.

The second bedroom comes from visualizer Duc Jimmi and is decidedly more feminine. The use of a few carefully chosen patterns, from the duvet to the cute wire desk chair, actually have a calming effect. The creative hidden lighting is also a soft and warm, perfect for getting ready for bed.

This bedroom, from Image Box Studio, uses an ultramodern palette with black and white taking center stage. The neutral scheme is offset by a pop of yellow in the upholstered armchair in the corner. Why not curl up with a good book before turning in for the night?

For a more urban option, check out this apartment bedroom from Alex Koretskiy. The gold wall treatment, with shimmering pain dripping down from the crown moulding and a contrast color of a lovely deep pink, create a urban sophistication for perfect sleep in the city.

A bold canopy bed may be right for some, but a comfy spot on the floor is enough for others. This simple, quirky bedroom includes a low platform bed and lovely turquoise accent wall. There is something warm, welcoming, and snuggly about the girly decor, too.

In another bedroom from the same designer, we see a more masculine approach to a similar atmosphere. The creative wall clock draws the eye and is not entirely relaxing. Still, creative hanging lights, simple white bedding, and cool blue walls tone the bedroom down to the level that's right for night.

This warm bedroom in caramel brown uses textures to create its enveloping atmosphere.

With a modern nautical theme, this bedroom from designer Oksana Mukhina could rock you gently to sleep like a boat on the ocean. The whitewashed floor and walls are particularly reminiscent of a beach house, which must be the epitome of relaxation.

This Persian-inspired bedroom from Projek F is highly sophisticated. The leather headboard and Persian art are dark almost fragrant, begging for you to turn off the lights.

The final bedroom from designer Oksana Mukhina. Its white walls and simple linen bed are enough to make the small room feel large enough to hold an entire head full of dreams.
For more regular updates from Home Designing, join us on Facebook.

If you are reading this through e-mail, please consider forwarding this mail to a few of your friends who are into interior design. Come on, you know who they are!
Related Posts:
184
December 20, 2014
All the visions you may have of life in Southern California probably include sun-soaked beaches, sprawling mansions, and plenty of time poolside. While that's hardly the reality for the majority of SoCal residents, one step inside this Pacific Palisades home and you will know exactly where those kinds of California dreams come from. Situated near downtown Pacific Palisades, with views that go all the way from the Pacific Ocean to downtown Los Angeles, this 5 bedroom, 6 bath home from architect Nadav Rokach is a California dream come true.

The creation of this space was truly a family affair. Nadav Rokach worked with his brother, developer David Rokach and David's wife, interior designer Eliana Rokach, to create the home from the ground up. No expense was spared and it shows in the luxury of every room.

Of particular interest are the multiple entertainment areas. After all, what is the use of a beautiful home in the Palisades if you cannot invite plenty of people over to share in the luxury of your home? The backyard features the obligatory infinity pool with white limestone fixtures and modern lounge chairs. It's an ideal place to spend a lazy afternoon or to sip on an apres swim cocktail.

The outdoors are an essential part of California life up and down the coast, meaning that any house like this must have easy access to the fresh sea air. Many of the tall glass doors from Fleetwood feature a bi-fold design that means that open up to the outside and make the house feel like one big outdoor space.

The interior of the house is luxurious without being extravagant. It is the details in the fixtures and materials that bring the space into the height of luxury, not ornate or fussy details.

There is no escaping the movie business in Los Angeles, either. That's why the home has both a media room and a screening room, one of which is equipped with its own private bar.

The roof deck is another decadent feature of this home. It includes a hot tub, BBQ grill, fire pit, and dining area along with its stunning 360 degree views. It's nearly begging for a party each and every night, by the twinkle of the city lights.

Of course, a hot tub may not be a day-to-day amenity, but a kitchen certainly is. The one in this home is sleek and open with plenty of space for cooking up anything from an avocado omelette to a fresh squeezed juice. The appliances in the kitchen come from Miele.

A private wine cellar and home gym may be somewhat juxtaposed to one another, but that doesn't stop them from co-existing peacefully, just like the decadence and healthfulness of the glorious Los Angeles basin itself.
Image Courtesy: The Agency
For more regular updates from Home Designing, join us on Facebook.

If you are reading this through e-mail, please consider forwarding this mail to a few of your friends who are into interior design. Come on, you know who they are!
Related Posts:
183
December 20, 2014
Are you renovating your kitchen or trying to figure out ways to jazz it up and add extra bits of style and pizzazz? Kitchen tile backsplashes add so many wonderful benefits to this popular spot in the house. It's functional as it keeps walls from dripping with grease and food stains from behind the sink and stove, it's acts as an accent wall providing artistic inspiration in a surprising way and it also helps to transform the room into the vision and theme you're aiming for. So, let's take a look at 15 modern kitchen backsplash ideas and designs that will inspire you and give you some great, fashion-forward ideas!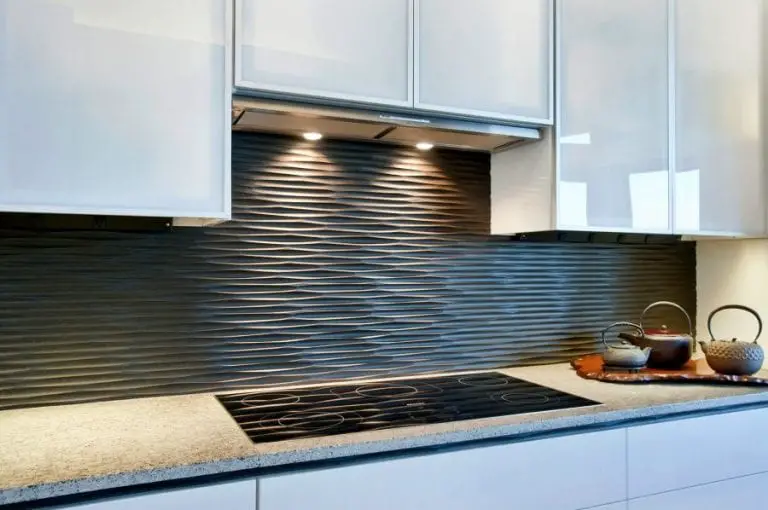 We like to think of this tile ideas as the perfect mix of both modern-masculine flavors and a bit of Asian zest. It's cool and comforting, compliments the light foundation while giving an interesting, textural purpose to the space, but is still very subtle and relaxing for a simple kitchen design. It'll also protect the wall from any spills and flying oils that come from the stove top.
Neutral, traditional tiling offset by  a bit of golden flair, we love this easy addition to the family kitchen. It gives it an elegant, sophisticated sprucing without straying away from the family-friendly style of the kitchen. This monochromatic look makes for a very warm and welcoming space that all of your friends, family and dinner guests will be sure to enjoy.
For a bit of sparkle and shine, try a tile such as this! It's got a distinct feminine touch but with a very contemporary style mixed right in. It takes this more traditional, cottage-esque kitchen and transforms it into a more modern space. Of course, it doesn't take away from the overall quaint and delicate feel of the kitchen's foundation.
Masculine with a very loud, design-worthy flair, this kitchen is contemporary in the most fluid of ways. The soft, gray tiling that covers the furthest wall helps to compliment and pop the smooth wooden cabinetry. It also enhances all of the counter tops and stainless steel appliances making for a very interesting and sleek overall style.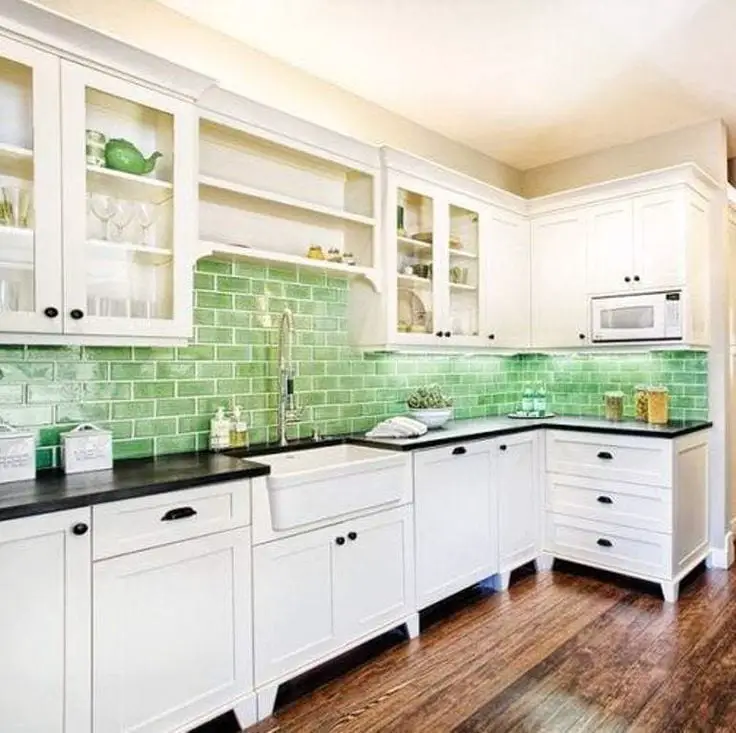 Wow! What a surprise this pistachio tiling makes throughout this clean kitchen! First, the black and white cabinets set the stage for a simple and modern style. But, when the green, brick tiles are added to the background the entire kitchen pops with wonder, whimsy and completely personalized touches.
We are loving this posh and smooth monochromatic kitchen. Dressed in hazy gray with enough texture and mixed elements to stay interesting, your apartment or small home would be enhanced in such a fashion-forward way with is addition. Check out the detailed, multi-shaded tiling in the background as well, which helps to create a more artistic finish to an otherwise too smooth room.
If you're looking for something a bit more eclectic or unique, you may want to check out this space in detail. From the organic, natural-finished cabinets and its stainless steel counterparts for the purple tiling that sets it all off in a trendy, hipster-esque way, this space is full of vibrancy and outside-the-box appeal. Remember, this type of tiling is quite easy to find, but what's important is finding a color that suits your home.
This is a more traditional backsplash tile, and may be exactly what you need for your smaller kitchen. Made with neutral shades that pop, these slender, horizontal pieces help to add just a bit of interest to a very cozy, welcoming kitchen that doesn't overwhelm the senses or seem to "untouchable" for a family to enjoy.
We are loving this Tuscan-inspired backsplash tile idea. Especially when paired with the emerald counter tops and cheery wood cabinets, it adds quite the contrast and compliment to the entire room. If the tile was darker, the room would look a lot smaller, but with the addition of this natural color and earthy tone, it opens up the walls and space that much more!
Texture: this room is all about wonderful texture and utilizing materials to create art. Although there isn't a lot of color, this kitchen is so full of life because of the addition of this spectacular backsplash. Its 3-D finish makes for a unique, artistic and touchable look that adds surprise and interest to the rooom without straying away from the clean and sleek vision.
This space has a more masculine and business-friendly vibe infused. It's the perfect choice for a bachelor pad or an apartment that needs to create a more sophisticated air. The small, dark tiling help to enhance a more stylish mood in this bar area and also offsets the wooden cabinets with a freshness and fashion-forward sense.
Isn't this space beautiful? Without the backsplash this kitchen would still have a very classic and elegant style with its black and white, timeless color combination. But, with its addition it provides a more youthful and personal feel. We love how fun and vivacious this design gives to a very sleek and clean foundation.
A personal favorite of the entire list, this mock-pebble backsplash is so much fun! It's textural, it's lively and it doesn't seem too posh or elegant to feel comfortable in when you're fixing dinner later at night or have a couple of buddies over for a glass of wine or two. It's still very fashion-forward and trendy without overwhelming or looking a bit too untouchable.
A beautiful, elegant space with a very sophisticated and delicate ethos, the backsplash tile we're looking at surely rounds out the room's style. Without its addition you wouldn't get the dessert-flair that we're feeling at first glance. Of course it adds an accent wall to an otherwise very clean-palette structure, but we love its infusion of creamy daintiness.
A bit more rustic but without being too casual, this tile has a definitely "wood" inspiration behind its design. But it's light enough to still feel very fresh, up-to-date and clean in a space that could easily be transformed into a very country, southern-inspired vision. We love its washed-out hues and delicate charm.
The post 15 Modern Kitchen Tile Backsplash Ideas and Designs appeared first on Furniture Fashion and requires written authorization to be republished on another website.
182
December 20, 2014
The flooring of your bathroom isn't the only place that you may need to or would think of using tile. Whether it's the shower or a back splash detail that enhances the overall theme and vision of your space, you'd be surprised what this type of accessorizing can really do to the room. We've took it upon ourselves to compile an inspiring list of homes that used bathroom wall tile ideas to the absolute fullest. From mere accents to entire accent walls, you'll get a great grasp on all the ways you can use tile to create style and fashion-forward energy into the powder room. Let's take a peek at these amazing ideas and designs!
Flowing waves can be added to the walls too with this textural tile choice. We love the muted look and relaxed feel of this master bath. Highlighted by simple creams and modern, clean-edged pieces, such as the stand-alone tub and floating sink, this room feels couture when in comes to the interior design world. It's a bit brave and bold, but fits the mold perfectly for a space that is meant for a bit of R&R.
A more traditional and homey feel, but still very chic and sophisticated, this golden-cream bathroom is a stunner. Notice how the tile on the walls is made to be more of an artistic choice than even its functionality. We love the shining designs, rope accent and floor to ceiling blending that's happening throughout the whole room. It's a very clean and simple way of decorating with vision.
Blue and vibrant, this space is big enough to host a variety of people at once – even though that may not sound too thrilling, we love how spacious and open the room is. But, we really love the crackled tiling that's accenting the contemporary tub! It makes the more traditional tile on the floor and walls pop with a youthful pizzazz, don't you think?
Black and white will always be a classic color combination and will always look good, no matter the room or the style you choose. And when it comes to this modern masterpiece, we can't help but swoon. The wall tile in this space is great for a variety of reasons including: the contrast and complimentary features between the two main walls, the smooth shine and the textural finish that makes it a more interesting to the eye and in design.
If you're looking for a more zen style, check out this interesting idea. With an easy, Asian flair your bathroom could too have this simple yet elegant and organic look. The mix of small and large tile on the wall gives off an artistic vision, but the colors and simple shapes keep the overall ethos subdued with a no-fuss attitude. The colors speak of a more casual and natural look as well.
Here's another example of a super modern, almost futuristic, styled bathroom. Between the steel sinks and bathroom, there's no room for traditional placements, you have to go full speed ahead with a contemporary vision. And the wall tiles in this space are stunning. The floral pieces give off a feminine, touchable appeal awhile the horizontal, chic shapes help give it a sleek, yet interesting flair.
Add a bit of sparkle to your bathroom with this type of silver and shine! Of course, it again, takes the more modern route in terms of theme, but that's what we love! It's elegant, it's sophisticated and with a beautifully feminine appeal. We don't suggest covering an entire wall with this kind of tiling, as it can overwhelm smaller spaces and the eyes, but we think using it as an accent piece would be a stunning option.
Regal with a slight Victorian inspiration, take a look at this plum and cream bathroom! Between the large, purple tiles creating a smooth foundation for the delicate designs making their way around the room and the canopy over the bathtub, you or your guests will feel like they're being treated like queens and kings!
Like its predecessor, this bathroom has a slight royal flavor rounding it out. One of our favorite combinations is gold and black, it's sophisticated and bold and holds a certain amount of confidence that's very intriguing – which works in bathrooms too! All three of these tile choices work well together, even more so than they would work on their own as they're all complimenting and enhancing the next.
Probably our favorite of the entire list, this curly cue tiling is so charming and light. But its biggest benefit is that it's not kitschy or too juvenile to use in a master bathroom because of its coloring and pairing with the traditional, solid black tiles. It creates a youthful and fun vibe without missing a certain amount of posh appeal.
You'd be surprised how many tile choices there are that come with designs and artistic enhancements. It's not always about texture, color or size, instead it can be about vision. This modern tub has a very mid-century feel with its mixing of old-age spirit and futuristic finishes. But the accent wall covered in a unique tile choice is what we are swooning over.
Check out this space! There's so many ideas swirling around this room, we don't even know where to begin. From the shower to behind the tub all the way over to the vanity, there is a unique choice made for that space. The tiling in this bathroom acts as wall art to enhance each and every section of the room.
A mix of marble and mirrored tiles makes this contemporary room pop with style and texture! Although it's a smaller space than most of the bathrooms we've been looking at, it still works! And it works because it was done in a neutral shade, if these choices were made with color the area would no longer look interesting, and instead chaotic and tiny.
Sometimes chic and clean is truly the way to go and this masculine, contemporary bathroom is one of those examples. Large charcoal tiles make a beautiful foundation in this simple space. If done in more traditional, smaller pieces the room would look less subdued and relaxing and more chaotic to the eyes, taking away from its mellow vibe.
Wow! This is a great idea and inspirational piece for those looking for a youthful and more fashion-forward style. This purple is beautiful, but we can easily imagine this bathroom done in the same way in a variety of different tones from teal or lime! It's chic and clean but has a definite design-worthy, trendy appeal. It's all about the glossy shine!
The post 15 Amazing Bathroom Wall Tile Ideas and Designs appeared first on Furniture Fashion and requires written authorization to be republished on another website.
181
December 20, 2014
No country or culture can be defined by one style of design. However, the region where a design grows up, learns, and lives can certainly influence his or her style. In this post, we explore selections from the portfolio of Jung wook Han, a Seoul-based interior designer who draws inspiration from traditional Korean aesthetic ideals as well as contemporary design theory. The one thing that each of these spaces has in common is a celebration of natural light – whether through the use of gauzy white curtains and large windows or stunning modern skylights. Have a look inside these beautiful modern spaces and get inspired to create your own sunny retreat.

When you can escape into the luxury of a good book, you don't need anything else to enjoy yourself. But this space, with its floor to ceiling bookshelves and ample sunny spaces to curl up on a cool day would be the ultimate escape for any book lover. The color palette is simple and warm, letting the books themselves really take center stage.

Books can provide a certain type of sustenance, and for the rest this space offers this cozy bistro-style kitchen, complete with its own chalkboard A-frame.

One of the great things about the designs showcased here is that the designer has taken the time to show the versatility of different spaces. For instance, the lofted area here is shown as a bedroom, workspace, and another cozy reading nook. By simply shuffling around some light furniture, it is easy to create any of these configurations depending on your mood.

Jun wook Han has also created many beautiful kitchen designs, including this modern offering. With a white color palette, the creative and brightly colored kitchen accessories are allowed to pop. This modern kitchen utilizes space efficiently so that even though it is not among the most spacious, it feels every bit as open and liveable as a much larger gourmet space would be. A simple natural wood dining table with a matching bench is a cute yet modern finishing touch.

Of course, the minimalist look of a modern white kitchen is not right for everyone. In this final space we see the glory of a fully equipped cooking space with every design element carefully chosen. From a vintage-inspired refrigerator to a folding bistro table and butcher block countertop, this kitchen is warm, cozy, and just a little bit quirky.

Sunlight filters in through bright, pretty windows and the entire tenor of the room can change just by swapping out fiestaware for neutral ceramics. With simple barstools and plenty of chopping room, it's really a kitchen where families can meet, cook, snack, and chat.
For more regular updates from Home Designing, join us on Facebook.

If you are reading this through e-mail, please consider forwarding this mail to a few of your friends who are into interior design. Come on, you know who they are!
Related Posts:
180
December 20, 2014
With the advent of the internet, the idea of a workspace has transformed into something much more than a sterile desk in a gray cubicle or even a plank of mahogany in a corner office. So many jobs now encourage employees to work from home, and even more artists and designers are inspired to work from beautiful spaces they create themselves. In this post, we'll explore 20 gorgeous and inspirational workspaces where anyone would be lucky to spend a day.

If you live in the right climate, fresh air and sunlight can be just the creative boost you need in your workspace. This beautiful wood and concrete bunker provides a hidden but open work area for multiple designers, artists, and creative thinkers.

In a more traditional take on an office (meaning, it actually has a ceiling), we find this industrial-inspired space with plenty of dark colors and sleek lines. No distractions to be found.

This sleek drafting table gives its artist owner plenty of space to spread out while a white brick wall can reflect light as well as ideas.

For a cozier, craftier office that would fit nicely into someone's home, we have this white washed room with sparks of playful yellow. Suspended shelving above the desk let the owner display personal effects, and create a warm and personal atmosphere.

A design team that works side by side needs space and boundaries. This two person desk with matching Eames chairs might not fit the bill for everyone but its simplicity is divine.

With space to spread out and a desk to focus, this sleek and organized office is the perfect space for the fashion forward. The hanging terrarium bulbs are a particularly creative touch.

What's more inspiring than a cabin-inspired nook of your own? The wood paneling behind this wall is the ultimate in rustic and there's not a computer to be seen.

Sometimes a home office needs to find space where it can. Here, a cozy and clean workspace is nestled neatly between a television and closet.

The ombre spectrum used in this minimalist workspace is entirely relaxing. From cream to gray to black to time to get to work.

Some artists may find it distracting to face a window, but here the sunlight actually provides another work surface for Post Its, which is nothing if not creative.

The playful textures in this cheeky home office, from a fuzzy rug to a plastic molded desk chair are both practical and playful.

This office is organized. Period. A few carefully chosen splashes of color give it a bit of personality, but it still screams "Time for Work."

It is a successful executive who finds herself with this kind of view.

Whether it's a crafting area for mom or a study space for daughter, this cozy little office nook has the bare essentials plus bit of pretty pink.

The creative storage nooks is this desk are overshadowed but its spectacular placement. It's the top of urban office design – though the direct sun might get to be a bit much in the summer.

Perched on an upper level of a secluded cabin, this spacious workplace is something Thoreau might have longed for. Simple, rustic, and clean.

The hanging storage units on either side of this simple desk are both stylish and practical. Even the dangling plants serve their own air purification purposes.

Of course, a well organized desk is key to a successful workspace design. Matching wood desk elements are just one way to encourage yourself to keep things as organized as they can be.

This desk concept is specifically designed for those people who use a laptop, desktop, and need space for sketching and storage. Its creative design is sleek and practical.

Finally, a musically-inspired office with a desk that could easily have been home to a Beatles contract – if it weren't for that MacBook perched on top.
For more regular updates from Home Designing, join us on Facebook.

If you are reading this through e-mail, please consider forwarding this mail to a few of your friends who are into interior design. Come on, you know who they are!
Related Posts:
179
December 20, 2014
Give your outdoor spaces more fun, fashion and function by adding a modular kitchen system to the mix. Your springtime dinners and dinner parties will have so much more pizzazz, style and help if you're able to add pieces like these that can kick off the party. From the porch to the patio to the pool area, there are tons of ways to give yourself and the family the right kind of luxury, style and usage when it comes to adding appliances to the yard. Just watch how much more enjoyable your entire home will be with the addition of one of these incredible outdoor kitchen modular systems and see how these cool design ideas can improve your outdoor space.
There's something so chic and fashion-forward about this system. And we love how you can arrange the pieces in whatever format you'd like. From the grill to the oven, to the stove-top and all the way to the prep and serving station, this modular system literally has everything you need to make your evenings that much brighter and more socially-conscious.
A bit more traditional than the first option but just as slick, we love this blendable system. There's ample amount of storage and fits right into the chic and soft surface of this covered patio. Just think of all the friendly brunches and family dinners that this space will be able to hold while the weather stays beautiful and cozy.
More subtle and less style-conscious than its predecessors, this simple, black system is more function than fashion. Which is okay, since this backyard patio "vision" is grandiose enough in and of itself. If you're looking for a piece that gives you what you need without becoming too over-the-top, this may be the pick for you! We also love the table addition on the end – you won't even have to look for a place to enjoy the food you've made that matches!
If you don't have a lot of space and want to keep things concise and together, you may want a stunning system like this stainless steel beauty. It's got all the necessities without becoming too bulky or taking up too much patio or porch space. We also love that it has a sink, which some of the stand-alone systems will do without.
Here is another great option for when you need a system that will fit right into a nook or cranny that's already provided. Stainless steel is always a great, classic option when it comes to kitchen style and it too has all the necessities, including a sink and built-in cutting board, that you need to create a perfect, casual dinner for your family and guests to enjoy!
There's something really traditional, yet beautiful, about this modular system. It could be the lights that come on at night so you can make sure you're cooking everything to perfect, even when the sun goes down. Or if could be the mixed material look that it comes combining blacks, neutrals and stainless steel finishes.
The view may take your breath away but so could this kitchen set-up! Between the breakfast bar that overlooks like lake (which is smart placement, of course), to the corner setting of the grill and all of the prep and serving space you could possibly need, this modular system may be the smartest and most luxurious of the bunch thus far! It's perfect for those with the need for more and the space to put it in!
We have to say first, this yellow shade is bursting with style and personality! We also love how the system blends and melds easily into the rest of this top patio overlooking the city. The necessity is there, the function is there, but it doesn't overpower the overall feel and vision of this eclectic and charming outdoor space.
For a more rustic and homey look, try finding a system that seems more organic. You can still have those stainless steel touches for a more chic and polished style, but this textural, rock-layered piece is so beautiful and fitting for an outdoor escape you get to enjoy with your family and friends at a moment's notice.
Smooth and sleek just like the rest of this incredible outdoor space, we have another and final example of a chic modular system that can fit into a smaller space without needing any room to "spread" out. We love that it's hidden away in the corner for more functional reasons, while the rest of this gorgeous patio can be used for easy entertaining and enjoyment.
The post 10 Cool Design Ideas for Outdoor Kitchen Modular Systems appeared first on Furniture Fashion and requires written authorization to be republished on another website.
178
December 20, 2014
Completed in 2013, Casa Redux – or "Redux House" – is a truly breathtaking contribution to modern residential architecture. Studio mk27, a São Paola architecture and design firm headed by Marcio Kogan, created this home from start to finish. The resulting structure is a textbook study in clean lines and stark, modern detail from its captivating windows to its concrete textured walls. Step inside for more views of this amazing space.

As with any project, the architectural team had to begin this design by focusing on the natural environment of the land. They chose to build the house on the highest ground of the plot, giving residents full, sweeping views of beautiful Brazilian sunsets and surrounding natural landscapes in the gated community of Quinta da Baroneza.

Perhaps the most noticeable visual cues in this home are the dual slabs – the floor and the ceiling – that sandwich the large window panes. These concrete pieces create and almost overwhelming sense of long and clean, situating the house perfectly in modern style. The way in which the floor was created, sitting 50 centimeters (about 20 inches) off the ground, the home almost seems to float above the earth.

The ethereal feeling is extend in the large yard with a simple, deep concrete pool that glows at night, making it easy to wonder whether you have stepped into a home or into a dream.

From the outdoor pool to the striking folding wood panels, the home is not just located on a plot of land, it is located in nature. The easy flow of the design from inside to outdoors creates a home that does not let one forget about the land, the earth, or the sky that give us all a home. The wood panels also serve as practical privacy curtains for the home's bedrooms, since there are limits to the desire for sunlight and envious eyes.
http://vimeo.com/97215038
For more regular updates from Home Designing, join us on Facebook.

If you are reading this through e-mail, please consider forwarding this mail to a few of your friends who are into interior design. Come on, you know who they are!
Related Posts:
177
December 20, 2014
If you have no idea what a Murphy bed is, that's where we need to start. It's simply a wall bed or sometimes even referred to as a "fold-down" bed. Like we've gushed about before, they're the best at saving space when space is in desperate need. And most importantly, they're contemporary and hip in the world of interior design as they're more than a place of rest but a place that exudes fun energy and organization. But this list isn't just showing off the bed itself, it's showing off some desk Murphy ideas and designs that have desks attached, making them even more user friendly and functional! Let's take a peek at all of these wonderful desk Murphy beds ideas and designs and maybe inspire you a bit!
Feminine and slick, this fuchsia piece is quite the beauty. And, at first glance, you can hardly tell that it's anything more than just a modern desk in an apartment-sized space. But, oat night, that desk slips away and out comes a bed to rest on, without taking away from the contemporary visions of the home. We also love how it's still kept very subdued and ot overly bold or harsh with the light charcoal complement.
Although the bed doesn't blend in quite as much with this system as it does in others, it provides quite the utilization of space in this room. The desk area sits on the end of the design as more display and organizational shelving gets tucked away at night when the bed comes out for play. We're also loving this contemporary yellow and black color scheme, full of bold choices!
Murphy beds usually come as a "system" which could include anything from closet space to shelving, and sometimes, if you're lucky, a desk too! We love this quaint little design that fits into a small space and makes the absolute most of the room its got. During the day you'll have enough of an area to do what you need for work, school or play and at night all you need to do is pull your cozy bed out from the wall!
This is such a great way to stock the guest room. Not only can you get some work done throughout the day but at night that office can become a charming little space for your guests to relax and enjoy throughout their visit. Notice how this photo shows an "in action" shot of how one part of the system tucks as the others comes out to play!
There's no way the naked eye could spot this Murphy bed at first glance! And we love that. This traditional office system is such a great way to utilize the one extra room you have in the house, making it both your home office or study space AND have a guest room available too! Close up shop at night and pull out the bed right from the center.
Create a room full of chic energy and playful excess for your teen with a Murphy system that includes a work area for school. This bedroom is chic, stylish and completely trendy – perfect for sleepovers or study groups and definitely worth showing off to all of her friends. Although the bed is small, it'll still be big enough for your teen to be cozy and comfy in come nightfall.
Don't be fool by a neon shade of coral, it can carry a masculine edge just as much as it can be a feminine counterpart. For example, this desk and bed combination makes for a great addition to any bonus room or office by providing ample amount of work space and fashion-forward style all in a compact and easy design.
What makes this Murphy bed system even more unique than the rest is where the bed actually flips out from, and it's obviously not the bottom of the design! Once you're ready for bed – or even if you're just using this extra space for friends or guests – all you have to do is take the bed from the top and pull down. It's like an instant bunk bed, without the bottom bunk! Now that's definitely a great utilization of space, don't you think?
You make think that's a closet hidden away behind the small, industrial desk, but in fact, it's a bed! Instead of coming out horizontally, you'll see a cozy spot coming out vertically from the wall. There are no specific pluses or minuses to this design, other than the way the system is designed and how it fits your particular room. We love this piece because of its subtly and how non-bulky it truly is.
At first glance, you may just think this design is the actual wall of the room, but in fact it's a chic and simply made Murphy system complete with a bed, a desk and organizational uses on the sides and top – perfect if you're in need of extra closet space! We love the hazy gray and teal combination, but we love how this is actually a bunk bed finish – with two pieces coming out straight from the wall!
The post 10 Desk Murphy Beds Space Saving Ideas and Designs appeared first on Furniture Fashion and requires written authorization to be republished on another website.
176
December 20, 2014
A fabulous home starts with an open and honest collaboration between the architect, interior designers, and of course, the home owner. In many cases, this type of collaboration results in a home that is borne out of a special love for a certain style, a particular piece of art, or even a color. But in the instance of this house from the team at LINE Architects, the house was inspired by the homeowner's passion for cars. That passion is carried through each choice in the design, even to the extent that the homeowner's cars are visible from many different areas of the space.

The house, designed by architect Dmitry Petrov and located in Chișinău, Moldova, measures 494.2 square meters (5319.52 square feet). It consists of two main areas, including an open and airy downstairs living area and the upstairs bedroom and working areas.

The first floor, starting from the entrance hall, fights to be as open as possible with vaulted ceilings and a consistently implemented white color scheme. Staying true to the automotive theme, the downstairs lounge is separated from the garage by a glass partition. This unusual choice, finished with neutral drapes, means that the occupant's beloved cars can actually be put on display at any time.

An oversized floor lamp in the lounge area works as a major focal point, particularly when the drapes are drawn over the garage. The style of a desk lamp blown up into almost comical proportions is one we can seen before in a number of modern homes.

The house, which the architect refers to as House 4 Cars, is made mainly from metal, glass, concrete, and ceramic. The emphasis on these industrial materials are just another way to reference the pieces and parts of the sleek machines in the garage.

Of course, not every part of the home is entirely focused on cars. The downstairs living area is deftly separated in the lounge, dining room, and kitchen by partial walls that provide separation but also keep the space open and bright. The first floor also houses a guest bedroom and bath.

On the second floor, private family bedrooms and office spaces, coupled with small balconies and large windows, allow the residents to melt away from the rest of the house easily and instead spend time gazing out over the well manicured lawn and pool area.
For more regular updates from Home Designing, join us on Facebook.

If you are reading this through e-mail, please consider forwarding this mail to a few of your friends who are into interior design. Come on, you know who they are!
Related Posts:
175
December 20, 2014
Leather sectional couches may not be the most popular or what you think of first when it comes to comfort, but you'd be surprised after a bit of breaking in how cozy and welcoming these pieces can become. And that comfort will never take away from the slick and versatile styles that these designs always exude. From traditional to funky, leather sectional couches know how to fill up a space and provide the right amount of seating and relaxation for you, your family and your guests!  Enjoy these 12 designs and ideas that we have put together.
Turquoise, studded and modern enough to keep up with the clean palette and sleek finish of the space, this couch screams style and versatile blends. Easily made to be more feminine or delicate, it also fits well within the stark contrast of black and white, contemporary living room accessories. And this particular living room has an easy urban vibe that the sofa meshes right into.
For something a bit more traditional but still very contemporary and stylish, take a peek at this clean, charcoal design. There's room enough for the entire family to take a load off and the simple design makes it easy to build any type of theme around from minimalist to futuristic. We love how easy this shade of charcoal is to mix, match and compliment.
White and creamy with built in side tables and a ledge that not only rounds out the design but makes for a functional step stool addition. This contemporary, leather sofa sure makes a warm and welcoming statement in a more posh and impressionable space. Although it still works in the more functional of ways, we adore the unique design of this piece.
Burning orange and full of life, this fantastic tufted sofa has a personality and pizzazz all its own, not matter what room and what kind of style it surrounds. Again, there's enough space to get cozy with the family but the actual design of the piece adds a contemporary, fashion-forward flair along with its unique and vibrant tone.
It doesn't get any sleeker than this black beauty. It's quite large in size so it would need to be placed in a room with a soft, light foundation (because the black can be quite overwhelming and make a room feel smaller) as well as a room with enough actual space to fit the piece! Again, this clean palette is great for styling and accessorizing with your own personality but it fits easily into more modern visions.
This sectional sofa is a bit smaller than others on the list but it's no less stylish. We love the delicate legs on this gorgeous, cream-colored piece. It fits well within this large and bright, neutral room but would also go well in smaller spaces that still have room enough for the right kind of seating for the family. All you need to do to make it cozier by adding colorful throw pillows and blankets!
A light camel colored piece that mixes well with a soft, industrial style within your home or studio apartment. The legs add to the more raw and organic air of this living room and the neutral tone makes for an easy and clean finish. Although there isn't a huge amount of color in this space, we love the light and youthful, yet sophisticated vibes it gives off.
A caramel couch that's plush enough to nap on and stylish enough to show off, we love this sectional sofa! The textured, metal-detailed sides add to a contemporary and fashion-forward vision, but the midsection, where all the relaxing will happen, it kept soft, smooth and welcoming. The backrests have an option to move back and forth for the ultimate comfort option as well!
 A personal favorite of the entire list, this dreamy, white sofa has everything you could ask for. From slick surfaces to enough seating to host you and all of your fuests, this modern piece will fit into any room with the space to guide it. We love the built-in side table and ledges for accessorizing, stylish and displaying whatever you need!
If you're looking for something simple and smooth, this chocolate sofa may be exactly what you're looking for. It's not as harsh as going with a stark black look, but instead it's still modern and contemporary with a posh finish without being too overwhelming or unwelcoming. We also love the mixed material look between the leather seating and metal leg detailing.
Black, bold and tufted all over, this a beautiful, artistic piece full of power and vibrant style. You can truly do anything you like when starting with such a gorgeous sofa. From building a feminine escape around it or building a fearless and artistically styled room around it. Although it may not look like the most comfortable of seats, a couple of throw blankets will lighten the mood in an instant.
Feast your eyes on one of the biggest sectional pieces on the list, and possibly one of our favorites. Hazy greys mix well within a variety of spaces and  style themes, which is a benefit in and of itself. But we also love how you can build this sofa in any form you'd like to make it fit within the room you're highlighting. And those pillows, subtly fashionable and cozy!
The post 12 Fantastic Leather Sectional Couches | Designs and Ideas appeared first on Furniture Fashion and requires written authorization to be republished on another website.